Warning the form is NOT easy to complete. We strongly suggest that the HOST completes the form getting the GUEST to provide the information and PDF files.
It will take at least 45 mins per form. Allow time.
You can save progress and return later if need be.
You will need to fill in one form per applicant (including children)
You will need each persons

Full Name
Date of Birth
Passport Number
Address in Ukraine
Photo of passport bio page (which needs converting to PDF)
Photo of sponsors Passport
For Children

Items 1-4 for BOTH PARENTS
If only one parent coming then a letter from the remaining parent (see below for example)

Details on whether they have served in various jobs like Army
Details of previous visa applications
Declarations about good intent.

When you have this, &/or can both work together (Zoom, FB Messenger etc)
Go to Visa Application page and start work.
When you are transferred to the TLSdocuments site you will need to upload all the documents at one time (for each application) so it is sensible to get both the mandatory, and any optional, documents ready in pdf form and in a folder so they are ready to go.
The Application is not submitted until you get to the page that looks like the one below.
Critically you need to record the Reference Number starting with GWF as while you should get an email to the registered email address I have been told this doesn't always happen.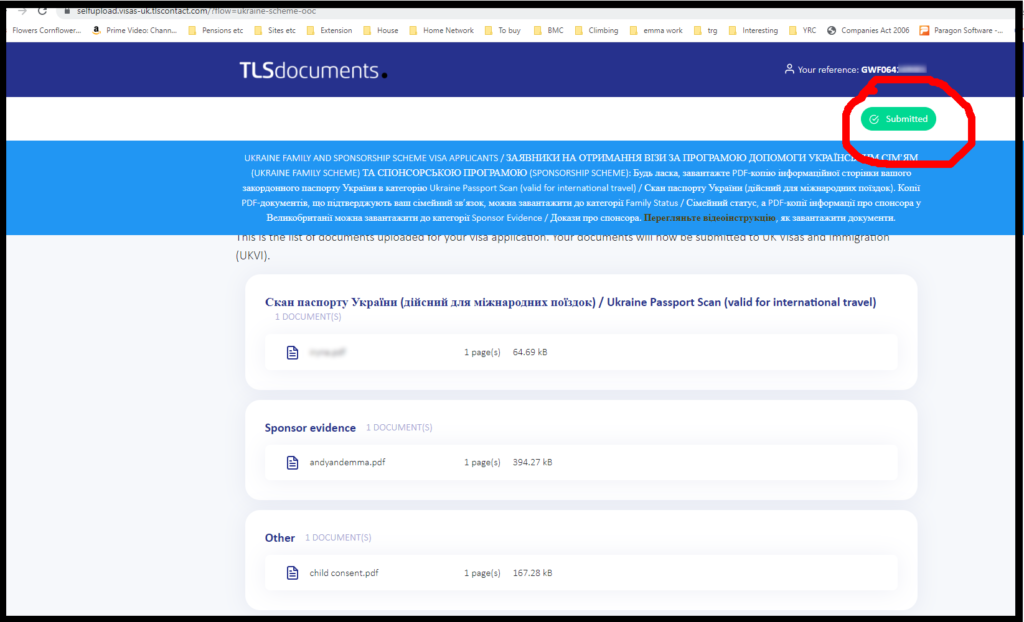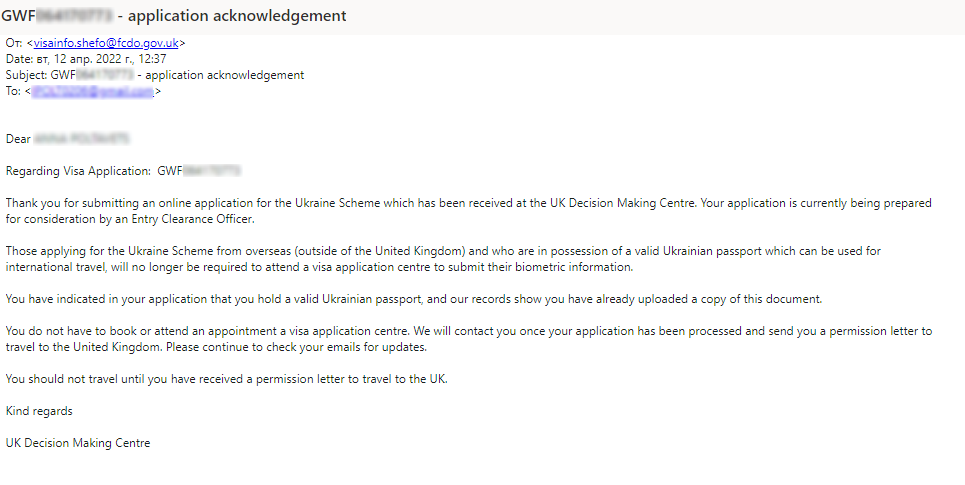 SAMPLE LETTER OF CONSENT
To whom it may concern
I, <FATHER NAME> <DOB>, passport number ### , resident of Ukraine, <ADDRESS> am currently resident in Kharkov in the State Service for Emergency Situations.
In recognition of the military operations in Ukraine, which threaten the life and health of my children <CHILD NAME> <DOB> Passport number ### and <CHILD NAME> <DOB> Passport number ###, I give my consent to my wife, <MOTHER NAME> <DOB> Passport number ###, to take my children beyond the territory of Ukraine, to any location she believes is appropriate for their safety and well-being, including to Great Britain.
<SIGNED> <DATED>